Garage Doors Repair
Back To Our Services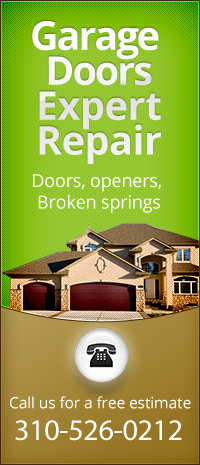 What exactly are traditional garage door services? Well, they tend to revolve around installation, service, and repair. At least, that is what Garage Door Repair Venice has built its business upon these many years in operation. We can install, service, and repair all the parts that make up your garage door system so that you can rely upon it to perform whenever you need it to.
Installation involves many things. We can install a new garage door, garage door opener, or garage door remote if you don't have one of these three products. We can also install a replacement for older garage door products that you may have. We do a lot of garage door replacement in Venice on the older homes here. It doesn't matter what age your home is or condition, our staff can handle it all. Service mainly means that we can help you keep your garage door parts in working order. We service tracks, springs, and cables so that they last longer and work better every time you use your garage door. Our staff makes sure that they always know the latest repair techniques and what the latest products for repair are that are on the market today.
Reassuring all garage door repairs
The main focus of Garage Door Repair in Venice though is our repair service. Garage doors are great for getting in and out of your home. That is, until they don't work. Getting stuck outside of your garage can be irritating, especially in bad weather, so knowing there is a company in your community that can handle all garage door repairs is reassuring.
So what type of repairs do we offer at Garage Door Repair in Venice? If it is a garage door part and it can experience wear and tear, then we can repair it. Besides the replace garage door panel job that comes up when someone accidentally bumps into their garage door, three areas need the most repair. They involve cables, springs, and track.
Garage Doors Repair Venice - There are a few garage door cable repair issues that we deal with regularly. Cables come off drums, they get loose, and occasionally they snap. Keeping track of their wear and tear can help keep major problems from arising, and we can help when they do. The next repair job that we do the most is broken spring repair. When it comes to the fix garage door spring repairs, our staff can do torsion spring repair and extension springs repair. Most residents will have extension springs, but torsion springs are beginning to be popular for their durability. Not every garage door company services torsion springs, but Garage Door Repair in Venice does. The most common problem with garage door tracks is the door off track issue. This can easily be fixed if you know how, and we do, so let us take care of this and any other repair that you have.
Call Garage Door Repair in Venice for installation, garage door repair parts and service at 310-526-0212.